Senior Management
SIIBAWAIH YAKUBU (GENERAL MANAGER)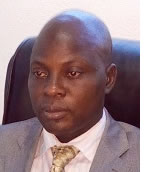 Mr. Siibawaih Yakubu is the General Manager of Yapra Rural Bank Ltd. He started his banking career in 1991 as a clerk. Due to his hard work and commitment, he rose through MR the ranks to become the General Manager in January, 2004.
He holds Bachelor of Arts Degree in Sociology and Social Work from the Kwame Nkrumah University of Science and Technology (KNUST). He is currently pursuing a Commonwealth Executive Masters in Business Administration Program at KNUST. He has also attended several refresher courses both locally and internationally geared towards shaping his managerial and leadership skills. 
He is an Executive council member of the Association of Rural Banks, Brong Ahafo Chapter, representing the Brong Ahafo Managers Group.
Since becoming the General Manager in 2004, he has been able to open three new branches at Parambo/Sawaba, Kwame Danso and Kajaji. His dream is to bring the bank to a level that will enable it rub shoulders with other top banking institutions in the country.